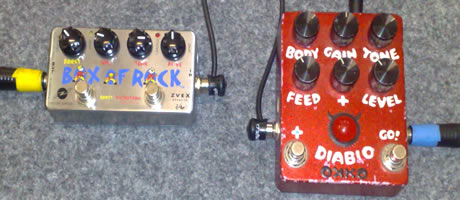 Ebenfalls eine freudige Überraschung beim diesjährigen PedalShootOut war die "Box of Rock" von Zvex. Dieser Effekt soll einen Marshall JTM 45 nachstellen. Na, ja, in jedem Fall gehts mal die britische Richtung und das ist gut so!
Das ist eindeutig ein Sound zum brettern und im direkten Vergleich zum Okko Diablo klingt das Pedal ein wenig wuchtiger in den Mitten, läßt sich aber nicht so schön dynamisch mit dem Anschlag steuern wie der Diablo, der etwas leichter und luftiger klingt.
Den Diablo kann man ausserdem durch den Body und Feed Regler noch feiner einstellen.
Die Box of Rock gibt es neben der Oconomy Version auch noch in Geschenkverpackung: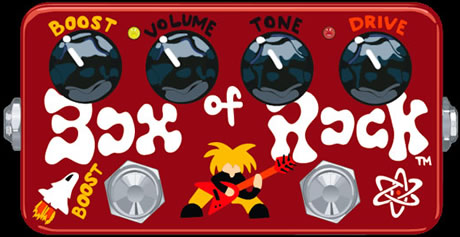 Das sieht doch ganz schick aus!